Hall

Inside the Hall

Floor

Room Type
Any house begins with its hall. In the Mystery Manor's mysterous Hall, one can sometimes hear laughter and dreadful moans. (Mystery Manor description)
Description
Edit
still to come
Room Images
Edit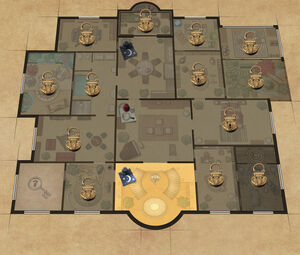 The Hall is located at the bottom of the manor map. It's bordered by the
African Room
, the
Living Room
and the
Library
Unlock Requirements
Edit
| | |
| --- | --- |
| Unlock Level | 22 |
| Coins | None |
| Items | Hall Key (22000 Coins) |
Room Exploration
Edit
Exploration details (requirements, rewards, etc.)

| | Novice | Trainee | Detective | Professional | Expert |
| --- | --- | --- | --- | --- | --- |
| Energy required | 75 | 80 | 85 | 90 | 95 |
| Experience rewarded | 64 | 76 | 88 | 100 | 112 |
| Coins rewarded | 72 | 84 | 96 | 108 | 120 |
| Time limit | 5:00 | 4:40 | 4:20 | 4:00 | 3:40 |
| Number of items to find | 9 | 12 | 15 | | 22 |
Level progression

| | # of explorations needed to level up | Displayed percentages |
| --- | --- | --- |
| Novice | 15 | 7%, 14%, 21%, 28%, 35%, 42%, 49%, 56%, 63%, 70%, 77%, 84%, 91%, 98%, LEVEL UP |
| Trainee | 17 | 6%, 12%, 18%, 24%, 30%, 36%, 42%, 48%, 54%, 60%, 66%, 72%, 78%, 84%, 90%, 96%, LEVEL UP |
| Detective | 17 | 6%, 12%, 18%, 24%, 30%, 36%, 42%, 48%, 54%, 60%, 66%, 72%, 78%, 84%, 90%, 96%, LEVEL UP |
| Professional | -- | -- |
| Expert | 100+ | 1%, 2%, 3%, 4%, 5%, 6%, 7%, 8%, 9%, 10%, 11%, 12%, 13%, 14%, 15%, 16%, 17%, 18%, 19%, 20%, 21%, 22%, 23%, 24%, 25%, 26%, 27%, 28%, 29%, 30%, 31%, 32%, 33%, 34%, 35%, 36%, 37%, 38%, 39%, 40%, 41%, 42%, 43%, 44%, 45%, 46%, 47%, 48%, 49%, 50%, 51%, 52%, 53%, 54%, 55%, 56%, 57%, 58%, 59%, 60%, 61%, 62%, 63%, 64%, 65%, 66%, 67%, 68%, 69%, 70%, 71%, 72%, 73%, 74%, 75%, 76%, 77%, 78%, 79%, 80%, 81%, 82%, 83%, 84%, 85%, 86%, 87%, 88%, 89%, 90%, 91%, 92%, 93%, 94%, 95%, 96%, 97%, 98%, 99%, 100%+ |
Items dropped
Edit
Hidden objects
Edit
The follow is a list of the hidden objects that can be found when exploring the room.
Zodiac Mode
Edit
A list of the zodiac symbol locations during Zodiac Mode.
Tips & Hints
Edit
None available
Ad blocker interference detected!
Wikia is a free-to-use site that makes money from advertising. We have a modified experience for viewers using ad blockers

Wikia is not accessible if you've made further modifications. Remove the custom ad blocker rule(s) and the page will load as expected.